Bilateral Netting of Qualified Financial Contracts Bill 2020
Lok Sabha passed the Bilateral Netting of Qualified Financial Contracts Bill, 2020, which allows for enforcement of netting for qualified financial contracts, by a voice vote on 20 September 2020. Bilateral netting refers to offsetting claims arising from dealings between two parties to determine the net amount payable or receivable from one party to the other.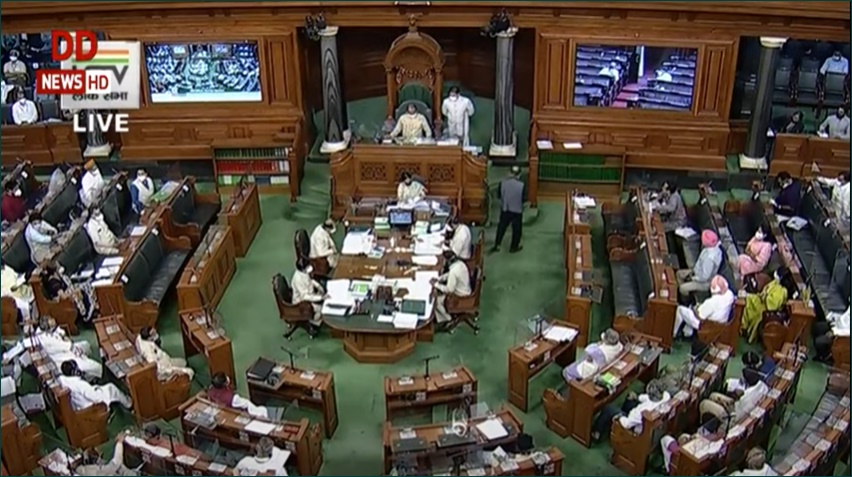 What
The bill is going to reduce net exposure and reduce the credit exposure of banks and other financial institutions.
The estimated savings to the financial system from the bill will be around Rs 46,000 crore yearly.
Under the bill, a qualified financial contract (QFC) is a bilateral contract notified as a QFC by a relevant authority such as the Reserve Bank of India, Securities and Exchange Board of India, Insurance Regulatory and Development Authority of India, Pension Fund Regulatory and Development Authority or International Financial Services Centres Authority.
These authorities may designate entities, such as non-banking financial companies or insurance or pension firms functioning under its jurisdiction, as qualified financial market participants to deal in QFCs.
The bill provides the enforcement of netting of QFCs if the contract has a netting agreement. Such an arrangement may involve collateral in the form of securities, pledge of assets or the transfer of the title of collateral to a third-party guarantor.
The bill was based on the model netting act of the International Swaps and Derivatives Association. This legal framework exists not only in India but in almost 50 countries and this proposed draft keeping in mind the model netting act of the International Swaps and Derivatives Association.
Some of the key propositions of the bill include provisions for close-out netting and limitations on administration practitioners.
Close-out netting refers to the termination of obligations under the QFC in the event of a default. This requires the parties to a QFC to ensure that obligations owed are replaced by a single net amount which can be enforced during close-out netting.
If the insolvent party of a close-out netting agreement is placed under control of an administration practitioner (AP), the bill limits the AP from rendering ineffective the transfer of cash or collateral despite the imposition of a moratorium by any court under any law.