India's NSG membership bid
Australia on 4 June 2020 expressed its strong support for India's membership to the Nuclear Suppliers Group (NSG) and also reiterated its backing for New Delhi's candidacy for a permanent seat in a reformed UN Security Council. Australia's support was stated in the joint statement released after an online summit between Prime Minister Narendra Modi and his Australian counterpart Scott Morrison. Both sides reiterated their support for continued bilateral civil nuclear cooperation and their commitment to further strengthen global non-proliferation. Australia expressed its strong support for India's membership of the Nuclear Suppliers Group (NSG), the statement said.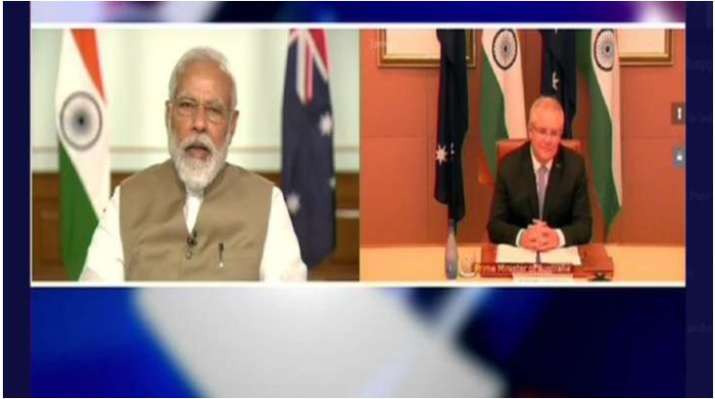 What
The NSG is a 48-nation grouping which regulates global nuclear commerce.
Admission of new members is done through consensus. India had formally applied for membership in May 2016. Even though India has the backing of the majority of the group's members, China has been blocking its entry into the bloc.
Australia also reiterated its support for India's candidacy for permanent membership of a reformed UN Security Council (UNSC) and India's candidature for a non-permanent seat at the UNSC for the 2021-22 term.
During the talks, Australia also welcomed the International Energy Agency (IEA)'s strategic partnership with India.
Australia looks forward to continuing to work closely on building stronger ties between India and the IEA community. The two countries also vowed to strengthen cooperation in the fields of energy and environment.
They decided to progress their Energy Dialogue, which will further cooperation in areas such as pumped hydro storage, cost-effective battery technologies, hydrogen and coal gasification, adoption of clean energy technology, fly ash management technologies and solar forecasting and scheduling.
Both countries committed to continue to collaborate on climate change, energy security and other issues of importance to the region and wider world, especially through the International Solar Alliance (ISA) and Coalition for Disaster Resilient Infrastructure (CDRI).
India and Australia also decided to use the existing 'Consular Dialogue' Mechanism to address the entire gamut of consular matters.
Both sides jointly decided to enhance their partnership in the domain of education through the Australia-India Education Council.
The Virtual Summit is yet another milestone in furthering the longstanding, deep and cooperative ties between India and Australia.
About CDRI
At the UN Secretary General's Climate Action Summit in New York on September 23, Prime Minister Narendra Modi had announced the launch of the Coalition for Disaster Resilient Infrastructure (CDRI) and invited all countries to join it. 
Envisaged as an international knowledge platform where countries can collaborate to make their existing and new infrastructure strong enough to withstand natural disasters, CDRI is the fruition of at least three years of discussions that India has had with more than 40 countries on this subject.
In simple terms, CDRI is an attempt to bring countries together to share and learn from the experiences of one another to protect their key infrastructure — highways, railways, power stations, communication lines, water channels, even housing — against disasters. 
About the NSG
The Nuclear Suppliers Group (NSG) is a group of nuclear supplier countries that seeks to contribute to the non-proliferation of nuclear weapons through the implementation of two sets of Guidelines for nuclear exports and nuclear-related exports.
The NSG Guidelines also contain the so-called "Non-Proliferation Principle," adopted in 1994, whereby a supplier, notwithstanding other provisions in the NSG Guidelines, authorises a transfer only when satisfied that the transfer would not contribute to the proliferation of nuclear weapons. 
The Non-Proliferation Principle seeks to cover the rare but important cases where adherence to the NPT or to a Nuclear Weapon Free Zone Treaty may not by itself be a guarantee that a State will consistently share the objectives of the Treaty or that it will remain in compliance with its Treaty obligations.