Extension of subsidy scheme
The extension of Credit Linked Subsidy Scheme (CLSS) for one more year is expected to boost the sale of affordable housing properties in the country. The scheme was to end on March 31, 2020. However, it has now been extended to March 2021, said Finance Minister Nirmala Sitharaman on 14 May 2020. The CLSS, aimed at the middle income group, for those earning between Rs 6 lakh to Rs 18 lakh, was started in May 2017. Under the scheme, borrowers get a subsidy of Rs 23.5 lakh on the housing loans. 250,000 middle income families will benefit during 2020-2021 and this will lead to an investment of over Rs 70000 crore in housing, Sitharaman said.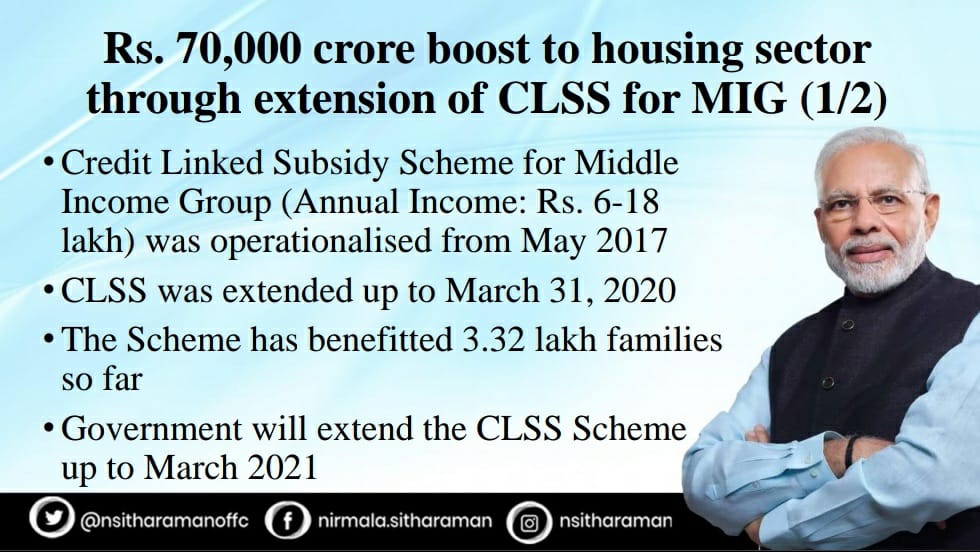 What
The extension of CLSS for another year will help demand for the affordable housing sector to inch back as and when the economy starts to revive. 
The extension of credit linked interest subvention will have a significant impact on the affordable housing segment. With work from home becoming new normal, this scheme will act as a catalyst for first-time homebuyers to close their buying decision.
The Pradhan Mantri Awas Yojana is an initiative that was introduced by Prime Minister Narendra Modi in the year 2015. 
Through this scheme, the Government of India aims to provide affordable housing to the urban poor population in India by 2022. 
Under the tagline "Housing for all", this scheme focuses on slum rehabilitation, Credit Linked Subsidy Scheme (CLSS), making housing affordable for all, and offer a subsidy for survey-led independent house construction or renovation.
Among the four focus areas mentioned above, CLSS is the only scheme that will be implemented as a central sector scheme. 
The remaining schemes will be implemented as sponsored schemes. Through the Credit Linked Subsidy Scheme, the Government of India aims at increasing the credit flow in institutions to meet the housing needs of the urban poor population in our country.
Credit Linked Subsidy Scheme will be implemented by two central nodal agencies in India, namely Housing Urban Development Corp and National Housing Bank. 
Apart from pumping the credit flow required to meet the housing needs, this scheme will also focus on the demand aspects of affordable housing finance segment.