Centre notifies CAA
The Centre notified the Citizenship Amendment Act (CAA) on 10 January 2020. The notification comes nearly a month after Parliament passed it on December 11, and in the wake of sustained anti-CAA protests. The Supreme Court is set to hear petitions challenging the constitutionality of the law on January 22.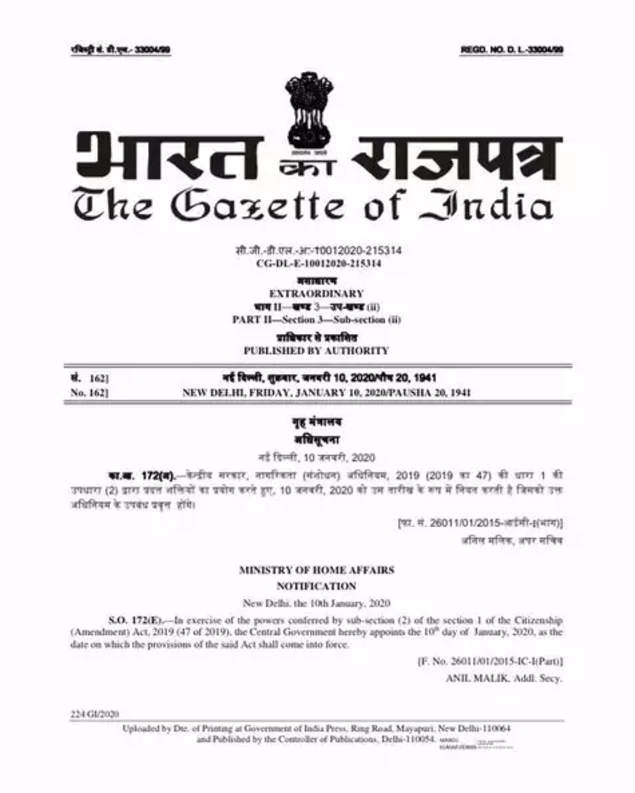 What
The law has amended the Citizenship Amendment Act of 1955 to provide for Indian citizenship to Hindu, Sikh, Buddhist, Jain, Parsi and Christian migrants who have come to India until December 31, 2014, because of religious persecution in Afghanistan, Bangladesh, and Pakistan. It does not provide for citizenship to Muslims. 
It has also brought down the period of naturalisation for such migrants from 12 years to six years.
The Act is not applicable to the tribal areas of Assam, Meghalaya, Mizoram, and Tripura and all other areas of the Northeast covered under the 'inner line permit'.
It also provides for cancellation of the Overseas Citizen of India status of any non-resident Indian if they are found to violate any law.
Flashback
The Articles (5-11) on citizenship in the Constitution of India were formulated specifically for the immediate aftermath of the Partition, leaving it to Parliament to enact the law on citizenship, which it did in 1955.
The Constituent Assembly held the principle of jus soli (citizenship based on birth on the soil of a country) to be the more "enlightened modern civilised" principle, as compared to the "racial" principle of jus sanguinis (citizenship based on descent); although citizenship by descent, as well as registration and naturalisation, also found recognition in The Citizenship Act of 1955.
The law on Indian citizenship is located within a constitutional framework that confers equal rights on all citizens, and does not discriminate between them on grounds of caste, creed, tribe or gender. 
But if the new citizenship law does not impact Indian Muslims, should the exclusion of Muslims from Pakistan, Bangladesh, and Afghanistan bother Indians? It is true that the CAA per se does not impact Indian Muslims.