Repeal of Articles 104, 193
Lok Sabha Speaker Om Birla said he would soon approach the Union government and make a request for bringing a Constitutional (amendment) Bill in the Parliament to repeal Article 104 and Article 193 of the Indian Constitution which have now become irrelevant.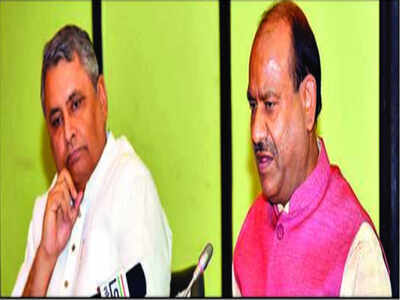 Both the Articles are related to a penalty of Rs 500 each day if any un-authorized person sits or votes in the either house of the Parliament or state legislatures.
What
Birla gave this assurance at a meeting of speakers of all states in New Delhi on 28 August 2019 after being agreed with a proposal of Bihar assembly speaker Vijay Kumar Choudhary.
The meeting of state speakers, held at the Annexe Building of the Parliament in New Delhi, was presided over by Birla.
In the meeting, Bihar speaker Choudhary moved a proposal for repealing the Article 104 and Article 193 of the Constitution.
In favour of his proposal, Choudhary argued that the provisions of a penalty of Rs 500 per day to a person if he or she, in an un-authorised manner, enters either houses of the Parliament or the state legislature and cast his/ her votes in the legislative bodies, have today become completely "irrelevant and unnecessary."
Such situation will not arise in any house these days because of adequate security arrangements around the legislative houses during the sessions. Even if such situation arises, the illegal trespasser in the house can be dealt under the provisions of the Indian Penal code.
In his another proposal, Choudhary urged Birla to make necessary arrangements for implementation of the National e-Vidhan Application (NeVA) project in all state assemblies through the Lok Sabha secretariat.
The Lok Sabha speaker that the NeVA project was currently being implemented through the Union ministry of parliamentary affairs, but the "progress made in the project is not very encouraging."
The issue of computerization of the offices of the Bihar Vidhan Sabha is pending before union government since February, 2016, Choudhary informed Birla and urged him to look into the matter.
[printfriendly]