UN Report on flooding
At least 600 people have been killed and over 25 million others affected by flooding due to the torrential monsoon rains in Bangladesh, India, Nepal and Myanmar, the UN has said. More than half-a-million of them have been displaced, Farhan Haq, Deputy Spokesman for Secretary-General Antonio Guterres said. At that 600 people have reportedly been killed in monsoon-related incidents.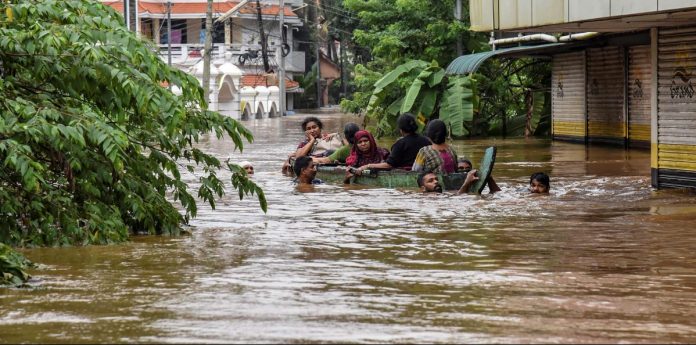 What
According to the UN's humanitarian personnel, "more than 25 million people have been affected by flooding due to the torrential monsoon rains in Bangladesh, India, Nepal and Myanmar, with more than half a million people displaced, our humanitarian colleagues tell us."
In India, UNICEF is working with the state governments to provide multi-sectoral planning and coordination support in the three worst-affected states of Assam, Bihar and Uttar Pradesh.
The UN agency said that while many areas remain inaccessible due to damage to roads, bridges and railways, the most urgent needs for children are clean water, hygiene supplies to prevent the spread of disease, food supplies and safe places in evacuation centres for children to play.
In India, more than 10 million people have been affected across Assam, Bihar, parts of UP and other north-eastern states, including more than 4.3 million children. As the situation develops, these numbers are only likely to increase.
In Assam alone, almost 2,000 schools have been damaged by floodwaters. While parts of India have been suffering from heavy rainfall and flooding, other parts are still reeling from the aftermath of severe heat and water deficit, affecting almost half of the country.
In Bangladesh, it is estimated that over four million people have been affected and the UN is helping to assess needs to determine the necessary response and is also supporting the government in the areas of water and sanitation as well as health.
In Myanmar, waters in some areas have receded, allowing some of those who had been uprooted to return home, but over 40,000 people remain displaced.
The governments in all four countries are leading the response with support from the UN, aid agencies and the private sector.
Last week, the UN children's agency UNICEF said heavy rainfall, flooding and landslides across Nepal, India and Bangladesh have killed at least 93 children, and put the lives of millions more at risk. UNICEF estimated that more than 12 million people, including about five million children, have been affected.
In Nepal, an estimated 68,666 people are temporarily displaced, including 28,702 children. A total of 88 people have died, including 47 children (15 girls and 32 boys).
In Bangladesh, monsoon rains continue to affect most of the country, particularly the central-northern and south-east regions.
Over two million people have been affected by flooding, including around 700,510 children. An estimated 367,341 houses have been damaged or destroyed and 1,866 primary and community schools have been damaged by floodwaters.
Across the region, we are seeing the devastating impact of extreme weather events on children and families. As weather events become more extreme, unpredictable and erratic, it is children who are paying the heaviest price.
UNICEF warned that while individual extreme weather events cannot specifically be attributed to climate change, the increasing frequency and severity of extreme weather - including recent high temperatures, intense rains and slow-moving weather fronts - are in line with predictions of how human activities are affecting the global climate.
The teams, operated in partnership with local health care organisations, will provide medical care and dispense medications as needed. 
What is a flood?
It is a natural event or occurrence where a piece of land (or area) that is usually dry land, suddenly gets submerged under water. Some floods can occur suddenly and recede quickly. Others take days or even months to build and discharge.
When floods happen in an area that people live, the water carries along objects like houses, bridges, cars, furniture and even people. It can wipe away farms, trees and many more heavy items.
Floods occur at irregular intervals and vary in size, duration and the affected area.
It is important to note that water naturally flows from high areas to low lying areas. This means low-lying areas may flood quickly before it begins to get to higher ground.
In this lesson, we shall see more about what causes flooding, the types of flooding, some effects of floods and what we can do before, during and after floods occur.
[printfriendly]